In This Edition

Scottish Fiddling Weekend
Fall Is in the Air
Upcoming Events
Guest Reviews
---
9/12
Guided Hikes at Rock Castle Gorge
Blue Ridge Parkway

9/13
Pet Adoption Day
Chateau Morrisette
9/19
Floyd Harvest Festival & County Fair
Town of Floyd

Old Time Country Dance Featuring
The Slate Mountain Ramblers
Floyd Country Store
9/26
Perfect Pairings: Cider & Cheese,
Mead & Honey
Foggy Ridge Cider

Guided Hikes at Rock Castle Gorge
Blue Ridge Parkway

9/27
They Call Me Aunt Orlene Presentation
Blue Ridge Parkway
10/3-4
Floyd Annual Arts & Crafts Festival
Floyd County High School

Foggy Ridge Cider Fall Open House
Event Information
10/7-10
Woolwine Apple Butter Making
Woolwine Fire Dept
11/6-8
A Weekend of Scottish Fiddling
Mountain Rose Inn
---
---
Sharing Our Guests' Thoughts
We appreciate the reviews that you have written about us and wanted to share them. Just click on the links below to see what other guests have said about their stay at the Inn or to add a review of your own!
---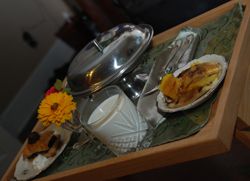 Have a need to be pampered?
Why not book a stay at the Inn & include a request for our scrumptious breakfast in bed?
This special includes champagne mimosas, a seasonal flower bouquet and the Inn's breakfast delivered
to your room on hand-made
wooden trays. It's a heavenly start
to a wonderful day.
It seems that all the world is tweeting these days, and we've joined the chorus. If you're interested in following our tweets about Inn events, life at the Inn and last minute specials, find us on twitter.com at MountainRoseInn. Everyone who signs up before October 1 to follow our tweets will be entered in a drawing to win a $100 gift certificate to the Inn. We'll notify the winner with a tweet!
The Inn's blog is growing weekly with updates, recipes, Southwest VA travel info and stories from us! Check us out at blog.mountainrose-inn.com.
---
To celebrate the roots of local music, the Mountain Rose Inn is delighted to present "A Weekend of Scottish Fiddling" November 6-8 with Master Fiddler Dr. John Turner.
Dr. Turner, the only ten-time winner on record of a National Scottish Fiddling Championship, has played a major role in the revival of interest in traditional Scottish fiddle music over the last three decades. As a recording artist, he is featured on seventeen recordings. On stage, radio and television, Turner has performed throughout the U.S., Canada, the U.K., Japan and the Middle East. He has performed for six U.S. presidents, Queen Elizabeth II, other members of Britain's royal family and many other heads of state from around the world. He is the founder and director of the Jink and Diddle School of Scottish Fiddling, now in its twenty- sixth season. He performs regularly in Williamsburg, Virginia and across the U.S., teaches privately, conducts workshops and serves as an adjudicator for fiddling competitions.
This weekend of music at the Inn will begin on Friday evening, Nov 6, with a fireside three-course dinner in the Dining Room. Afterwards, Dr. Turner will present a concert, An Evening with John Turner, Scottish Fiddler, in the Inn's parlor. On Saturday, following the Inn's four-course breakfast, Dr. Turner will present the morning lecture A Brief History of Scottish Fiddling. Lunch will be served, and then Dr. Turner will present the afternoon lecture Scotland and Virginia in the 18th Century. There is plenty time on Saturday afternoon for viewing the fall foliage and enjoying dinner at one of the fine dining establishments in the area. Dr. Turner will give a brief concert, New Tunes in the Traditional Scottish Style - Compositions by John Turner and/or His Student, on Saturday evening.
Package includes two nights lodging, Friday's dinner and concert, Saturday's lectures, music events, and lunch, and of course, breakfast on both mornings. Package price per couple for queen bedded rooms is $880 and for king bedded rooms is $920. To make your reservations for this special weekend, email us at info@mountainrose-inn.com or call 888-930-1057. Book by October 1 and save $50 off the package price.
---
Fall is just beginning here in Southwest VA. It won't be long before the leaves have turned to glorious shades of red and gold and the kettles of apple butter will be bubbling. Have you made your plans to see the beautiful colors and experience fall in all its glory here in the Southwest VA mountains? If not, don't wait another day to make your reservations. We have just a few weekend spots left.

---