Our Award Winning Gourmet Breakfasts at the Mountain Rose Inn are guaranteed to be memorable!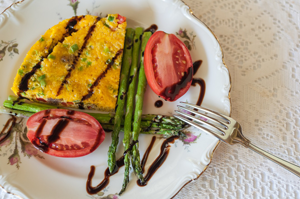 Recent guest comments give you an idea of how special our breakfasts are:
"The breakfast by the managers Bruce and his wife Valerie was stupendous! We didn't eat lunch!"

"The breakfast is fantastic! You will not go away hungry."

"The breakfasts were GREAT! Prepared and served with love, we enjoyed every course. We felt we were at a tapas restaurant in NYC. Their take on eggs Benedict was scrumptious. Every course Valerie prepared was delicious and presented with flair."
Your breakfast will begin with a cup of hot tea, cocoa, or our famous Mountain Rose Blend coffee. Brewed from locally roasted coffee beans, we grind our beans one pot at a time, ensuring fresh, tasty coffee in every cup.
Our menu changes daily and features dishes like: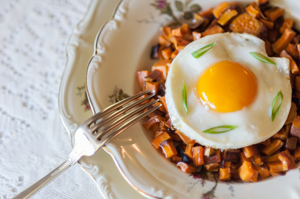 Ambrosia - Fresh Cara Cara Oranges with Coconut and Pecans.

Peach Capresi - Fresh Local Peaches stacked with Fresh Mozzarella and MInt.
Bacon and Cheese Frittatas - Organic Free Range Chicken Eggs with diced Virginia Bacon, Sweet Red Pepper, Scallions, Sun Dried Tomatoes and Sharp Cheddar Cheese.
Sweet Potato Hash - Diced Sweet Potatoes with Caramelized Red Onions, Virginia Sausage and a Fried Egg.
Blue Ridge Benedict - Grilled Grit Cakes, Smother in Red Eye Gravy and topped with a Poached Egg.
Sausage Scones - Hot Virginia Sausage crumbled inside of biscuit dough and baked until Golden Brown.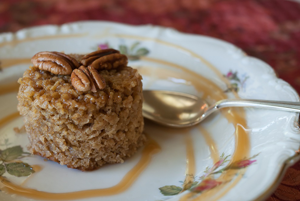 Praline Oatmeal - Baked Oatmeal topped with Pecans, Maple Syrup and Caramel Sauce.
Chocolate Waffles - Waffled Chocolate Cake with Fresh Whipped Cream, Dutch Chocolate Sauce and Fresh Berries.
Cinnamon Rolls - Our take on Cinnabon's are Moist rolls with Cinnamon Sugar, Drizzled with Home Made Glaze.
Pain Perdu - Our take on French Toast features a 3 inch Slice of French Bread marinated overnight in a Bourbon Custard Sauce, then Sauteed to develop a Crusty Top and Baked to create a creamy, custard like inside.