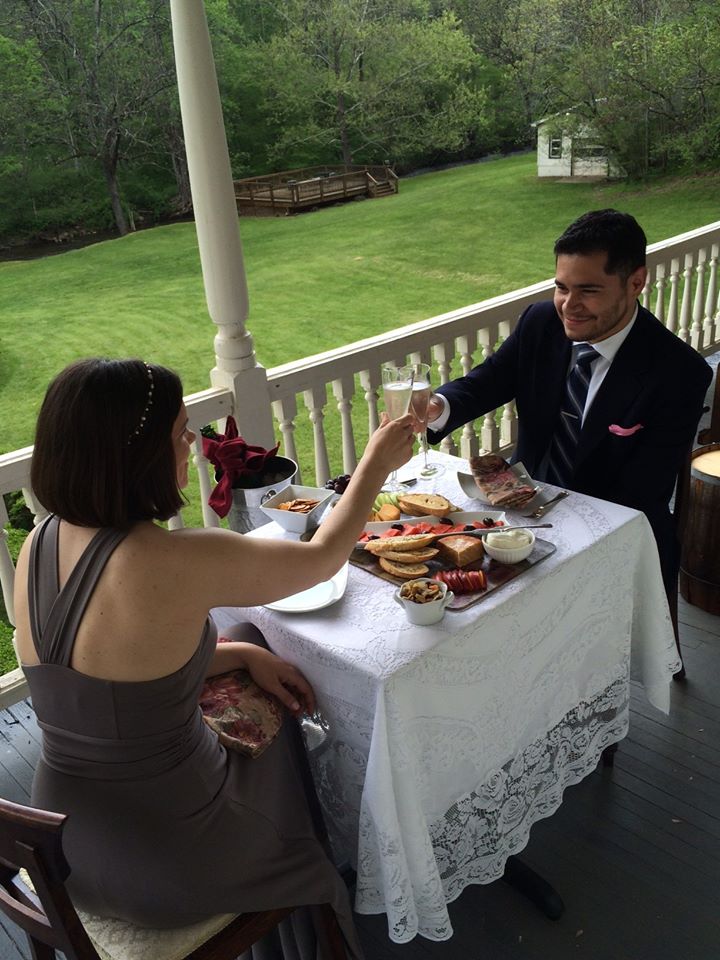 Interested in eloping at the Mountain Rose? View our elopement packages..

A Small, Intimate Affair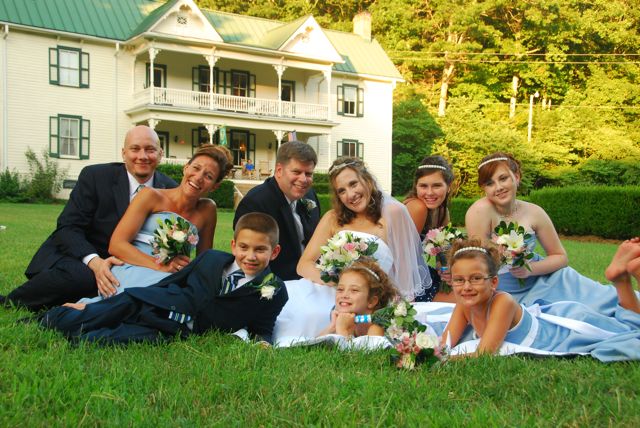 For couples who are interested in a private, simple Blue Ridge Mountains wedding or elopement with just a few family and friends in attendance, the Mountain Rose Inn offers a romantic, all-inclusive, intimate wedding package.
Get married at our beautiful bed and breakfast with your closest family and friends in attendance. No need to worry about the details. We will take care of everything for you.
The intimate wedding package includes:
Beautiful ceremony location – outdoors in the Inn's boxwood garden, on one of the Inn's porches, indoors by the Parlor fireplace, or at the Bob White Covered Bridge
Bridal bouquet & groom boutonniere
Local officiant to perform ceremony
Digital photography for ceremony; CD with pictures
Private, plated, four-course wedding dinner with wine for up to ten guests, including the bridal couple
Wedding cake with fresh flower petals, choice of flavors
Two nights of luxurious accommodations for up to ten adult guests, including the bridal couple
Sparkling wine and gourmet chocolates delivered to the bridal couple's room on their night of choice
An arrangement of fresh flowers in the bridal couple's room
Welcome baskets for wedding guests
Wedding basket for bride and groom
Breakfast each morning and afternoon snacks
Cost of intimate wedding package is $3,698 and includes ten guests with bridal couple. Tax not included. Price will be adjusted based on the number of guests. Package components can be tailored. At least ten days advanced notice is needed for planning your special day. To schedule your wedding package, book online or call 888-930-1057.
---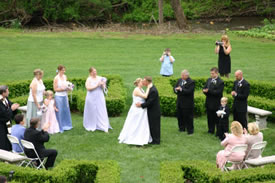 The Mountain Rose Inn has a beautiful lawn and pool area suited for outdoor weddings with no more than 75 guests. The boxwood garden was especially designed in the shape of a Celtic cross, signifying eternal love. Beyond the garden is the beautiful Rock Castle Creek, which provides a lovely trickle of nature's own music. The lawn is large enough to accommodate tents, dance floors, and caterers.
The Inn's wedding packages are based on a two-day event. This may be lengthened for an additional fee, but not shortened. The Inn is available to you from 3 pm Friday through 11am Sunday. You may use the Inn for any combination of your rehearsal, rehearsal dinner (up to 12 people), wedding, and reception during that time frame. We are also happy to recommend several very good restaurants that are specifically set up for large rehearsal dinners and receptions. While the Inn does not provide catering for more than 12 people, or for outdoor seating, tents, or other wedding accessories, we will be happy to refer you to those who do.
The Inn's wedding packages include the use of all 5 guest rooms in the inn for overnight lodging for two nights, a four course breakfast each morning, and use of the grounds for the wedding activities. Wedding packages can be created to meet specific needs. Wedding package prices are based on the number of guests and wedding events. For more information or to set up an appointment to view our setting, please call us at 888-930-1057